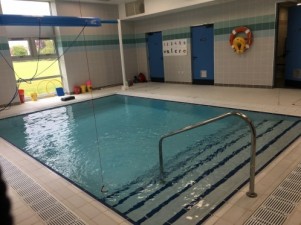 Swimming at…. Riverside, Goole
If you or your little one is a beginner, improver or looking to learn one to one, there's no better place than the lovely pool at Riverside Special School in Goole.
Incredible instructors
Our instructors in the pool at Riverside are known for being kind, patient and very experienced in supporting new swimmers. You'll learn alongside Charlotte, or Scott, both of whom are qualified to keep you safe and secure in the pool.
Classes to suit your level
At Riverside, you can choose from classes at stage 1 through to 4 of the Swim England Learn to Swim Pathway. You'll splash straight into building confidence in the water and you'll find out about the different styles of swimming.
Specially chosen activities
Our instructors will lead you in exercises to get you started such as strength and endurance practice and stroke drills. Though these might sound scary, they're perfectly chosen to build up your muscles and technique so you can achieve the length or stroke that you'd like to more quickly. They're also great fun!
Beautiful hydrotherapy pool
One of the reasons we're fond of our Riverside lessons is the venue- it's super cool in Goole! The pool here is not only warm (36 degrees!), but it is designed for hydrotherapy. Every time we swim here, we can't help but feel relaxed and at ease.
Small enough to feel safe
The designers of the Riverside pool wanted to make sure it was comfortable for even inexperienced swimmers. Its size is just 6x4m meaning it's not as intimidating as large swimming baths. The steps gradually descend so there's nothing frightening about entering and exiting. 
Lovely location
As its name suggests, the venue is located right on the riverside of the Ouse. It's a lovely setting to see as you arrive at and leave from your lessons. It's also less than 15 minutes' walk from the centre of Goole making it nice and convenient. Drax is just over 15 minutes' drive away and Selby can be reached in under half an hour.
Interested in a dip in a hydrotherapy pool? Want to arrange some beginner or one to one lessons? Please let us know at info@carolsaundersswimschool.co.uk or you can even book online here.