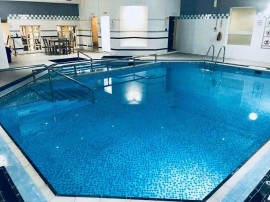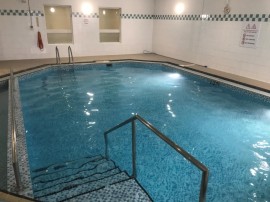 Holiday Inn, Garforth
**Important Notice**

Due to COVID-19 all lessons are postponed from today 11am 17th March 2020 until further notice.
All current swimmers have received an email.
Thank you for everyone's support and kinds word to date and to all our venue's who are supporting this temporary closure.
As a small family business we hope you understand, support and appreciate our decision and we hope you will continue to support us when we are back up and swimming.
Keep Safe and Keep Well

Best wishes
Carol, Naiomi & CSSSFamily
The pool is located in the You fit health club at the Holiday Inn, Garforth, Leeds
Lesson run for 48 weeks of the year in rolling term blocks. (Lessons due to Start from 1st March 2020)
Class Times & Availability
Lessons are available on Sundays from 9am onwards.
Small Group and Private lessons (1:1 & 1:2) for swimmers from 3yrs +.
Classes are 30 minutes long and subject to availability.
For availability and booking please email:  info@carolsaundersswimschool.co.uk or BOOK ONLINE
Term Dates
Lessons are currently suspended therefore all term dates are subject to change and will be updated once possible.   
2020

Start Date

End Date

 Term Two

1st March

24th May 

(Hols 11th - 19th April)

 Term Three

31st May
2nd August

 Term Four

9th August
11th October

 Term Five

18th October
20th December
Disclaimer: The above dates, times and course durations are subject to change. If you are unsure of your course start date and would like the term dates and your lesson time confirming, please refer to your booking letter or call Carol Saunders Swim School (01757) 709703. Any changes to the dates on your original booking letter will be made via email.
Directions
to
Holiday Inn Leeds - Garforth, Wakefield Road, Garforth, Leeds, LS25 1LH
Pool Information
Length: 9m  
Width: 5m  
Depth: 1.2
Temperature: 30 deg.C