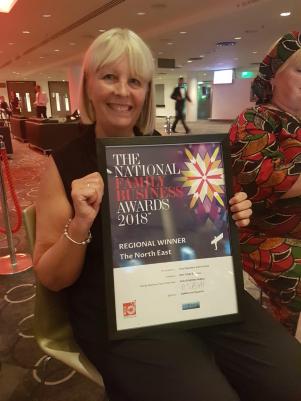 Much loved local swim school scoops national award
York and Selby based Carol Saunders Swim School has won a top honour at The National Family Business Awards.
Carol, founder and owner of the swim school, attended the annual awards held in London last Friday (date) where she won Family Business of the Year for the North East of England. The Awards have a growing reputation for discovering and recognising the most outstanding family businesses across all corners of the UK, from small local retailers to large manufacturers, so winning this award is a fantastic achievement for the local school.
Carol set up the business in 1987 when she found a lack of swimming lessons available for her children in the local area. Over the past 30 years she has developed and grown the school, now delivering lessons to hundreds of swimmers nationwide. Local venues include, The Mount, York, Sherburn High School, Barlby High School and Willow Lodge, Bubwith. Other venues also include, Halifax, Nottingham and Derby.
Carol says: "We were thrilled to be nominated for this award and winning it means the world to us! After setting up the school just over 30 years ago, we now have two generations running the school with myself and my daughter Naiomi on board and a third generation taking part in lessons too. It truly is a family business through and through."
Carol has based the foundations of the swim school on maintaining the "family" feel for the whole team.
Ashleigh Ivens Green, manager of Sherburn pool says, "I started swimming with the Carol Saunders Swim School at Sherburn from four years old and then started assisting with the lessons when I was 13, I then progressed onto teaching my own lessons and completing my teaching qualifications which has got me to where I am today, managing the Sherburn pool lessons and working in the office. Working with the Swim School has introduced me to the world of aquatics and I can't thank them enough for supporting me throughout my career, I truly feel like a member of the Swim School family!"
The awards, now in the second year, are quickly becoming known as THE family business awards to be a part of. Judged from an award entry and face to face interview, the swim school was chosen as winner for their region for 2018.