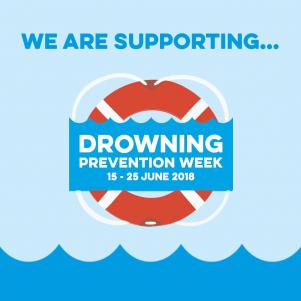 Drowning Prevention Week 2018
The annual Drowning Prevention Week campaign will run between 15 – 25 June 2018. The campaign, created by the Royal Life Saving Society UK (RLSS UK) and this year run in partnership with the RNLI and Swim England, aims to reduce the number of drowning and near-drowning incidences that occur in the UK every year, by showing people how to be safe and have fun near water. The campaign encourages schools, clubs, leisure centers and communities, to promote water safety education through events, lessons, games and activities, in a bid to make people more aware of the dangers of water.
This year to show our support for this extremely important week we are teaming up with the local fire brigade in Selby and York to raise awareness. We will be at Market Cross in Selby on Saturday 23rd June from 10am-2pm to promote water safety, open water swimming, lifesaving and how to swim safely!
Come and see us, there will be balloons, quizzes, posters, and lots of fun!
Drowning Prevention Week Objectives
Increase the number of children receiving water safety education
Reduce the number of drowning incidences
Promote local and national drowning prevention projects and initiatives
Drowning Prevention Week Aims
Promoting water safety to children and young people
There is a great range of activities available for schools and youth groups, ranging from classroom based workshops to outdoor PE and orientation sessions. All are available to download FREE from the DPW website.
All resources are available from www.watersafetyeducation.org.
Family Fun and the Lifeguard Challenge Leisure centers and swimming pools around the country are encouraged to provide nine days of 'family fun, challenges and fundraising' using the RLSS UK's leisure resources. Suggested activities include:
The Rookie Lifeguard Big Weekend – Have a go at the Rookie Lifeguard skills
Free 'Save a Life' Workshops – Learn how to perform CPR
The Lifeguard Challenge – How fast can you tow a manikin?
Free Swim Friday – Fun in the pool for all the family
Summer Holiday Safety Session – All you've ever wanted to know about keeping your family safe on holiday
Pool to Pond Taster Session – Find out how you can swim in open water safety
Key statistics
Drowning is one of the leading causes of accidental death in children, in the UK
Over 700 people drown in the UK and Ireland every year – equivalent to one person drowning every 20 hours
Hundreds more have near-drowning experiences, sometimes suffering life-changing injuries
For more information on how you can get involved and support Drowning Prevention Week 2018 visit the RLSS website here.