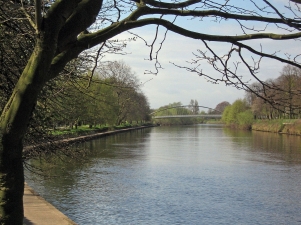 Open water safety
With the sunshine making an appearance over the past couple of weeks, it definitely feels like summer's on its way! With the heat comes the urge to take a dip in open water, whether it be a river, a lake, the sea or even a canal…however, it's extremely important to remember water safety first before even contemplating taking the plunge (literally!) as unfortunate statistics show that 85% of accidental drownings happen in open water!
Here are some of the dangers to be aware of when near open water:
Depth perception
Open water can be difficult to gauge the depths of, not only when you can't see the bottom, but also when you can but you can't determine whether or not there is a sudden drop. If you are unsure on the depths take a buoyancy aid with you when you first enter the water.
Undercurrents
Strong undercurrents and rip tides can be very dangerous indeed. It's important to be aware of the potential threat of these, especially in rivers and the sea, and take precautions before entering the water.
Hidden dangers
Rivers, lakes and canals are a haven for wildlife with reeds and other plant life which can get tangled around your limbs and make it difficult to get back out. Unfortunately, rubbish is also often lurking beneath the surface which can cause added dangers of sharp metal objects and broken glass!
Temperatures
A cooling dip may seem like a welcome break from the heat on a hot day, however, don't underestimate the temperatures, especially in the UK. Whether it be a river of the sea, water temperatures can be extremely cold and the shock of this temperature change can lead to muscles seizing up making it very difficult to get back out.
Read more about cold water shock here - http://rlss.org.uk/water-safety/water-safety/cold-water-shock/
So before jumping into what may look like a refreshing lake, river or sea, take precautions…
Look for warning and guidance signs
Be aware of under water hazards
Get out of the water as soon as you start to feel cold
Do not enter fast flowing water
Avoid drifting in the currents
Only enter the water when you have adequate supervision and rescue cover
Wear a buoyancy aid
Never go to the water alone
At the Carol Saunders Swim School our lessons are focused around water safety and building swimmers confidence. If you or your little one would like to become more confident in the water and learn more about the potential dangers and how to stay safe in the water, get in touch with the team on info@carolsaundersswimschool.co.uk or find out more about our lessons and venues here.