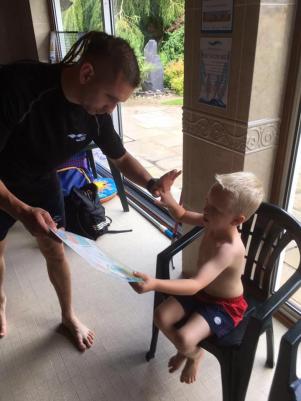 Swimming Lessons for Juniors & Adults
Considering signing up to swimming lessons yourself, or for your little one, but unsure what the lessons might entail? We've put together an overview of classes for little ones and adults for you to find out a bit more before taking the plunge!
Swimming Lessons for Juniors
Enrolling your little one in swimming classes is a great way to build their confidence in both their fitness and in making new friendships.
There are different stages of swimming lessons, depending on your little one's age and experience. Small children and beginners will start off by learning about water safety and building their confidence in the water. We will often incorporate floating devices into their lessons to help them feel safe in the water, and they will be accompanied by our trained teachers at all times.
As swimmers progress, they will start to learn more skills and start to move in the water, eventually building up to swimming longer distances in the pool. They will learn more advanced strokes and kicking techniques while becoming more confident in the water.
If your little swimmer is a natural and develops to an advanced level, they may want to try training for a triathlon or even to become a lifeguard as a teenager.
Swimming Lessons for Adults
Don't feel discouraged if you didn't learn how to swim when you were younger! You can take up swimming as a form of exercise or a new hobby at any point throughout your life. In fact, 1 in 3 adults don't know how to swim and we regularly take on new adults onto our beginners' classes.
You're never too old to learn how to swim! Exercising in the water is one of the best ways to improve fitness without putting any stress on joints.
Whatever your reasons are for learning how to swim as an adult, we can help. Whether you would prefer a group setting or a more private 1:1 session, our qualified instructors will be able to guide you to choosing the right class for you.
Even if you did learn to swim as a child and have since let the skill slip a bit, you can refresh your skills with us as an adult. Our classes are tailored to suit all ages and abilities from babies right through to advanced adults.
For details of the venues that we have lessons at please visit > VENUES
Or to speak to one of the team about which lessons would be best for your situation, get in touch HERE