About My Class
Baby and Preschool Ages 0-4years
Swimming with your little one is a beautiful special bonding experience. Our approach to baby swimming is gentle, child-led, progressive and a lot of fun.....
We offer a relaxed, nuturing and sensory experience for you and your little one to learn a vital life-saving skill together. The skills you learn and the fun you have will remain with you forever!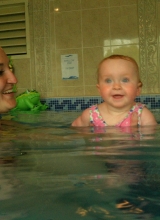 Fun and enjoyment are critical at any stage of learning to swim but particularly at this stage, the main emphasis is placed on feeling at ease, bonding with you and developing water confidence whilst working on secure, comfortable holds, movement and floatation.
We introduce babies to the water by listening to the baby and working with their cues and reactions. We all know that each baby is indivual and will display their emotions, their likes and their dislikes with facial expressions, body movements and vocalising. Experiencing the water with your baby, understanding and developing cues and being relaxed ensures babies remain relaxed and happy in the water.
Lead teachers are STA Baby and Preschool qualified and are familiar with Birthlight and Halliwick teaching methods. All of our teachers develop their own teaching philosophies based on their qualifications and vast experience. The key values all Tiddlers Academy teachers adopt is a gentle child-led approach focusing on the parent child relationship and working to enhance bonding and attachment.
Your baby will love the freedom of movement the water can provide and by working at your child's pace floating and movement will flourish.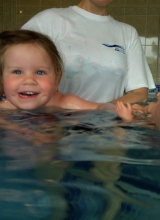 Babies and children learn through play and song. As babies and toddlers grow, the Tiddlers Academy aquatics scheme begins to compliment the Early Years Foundation Stages and provides repitition of water skills and activities to promote emerging and secure learning. Singing in the water is compulsory....dont worry if you dont know the words, you'll soon learn!
Beginnning to move through water, aids muscule development and coordination complementing a child's physical milestones; rolling, sitting standing and walking. Each of these milestones offers a unique window of opportunity to work with a childs intrinsic reflexes within the aquatic environment.
Water safety is a focus from day one and babies will be introduced to gentle safety techniques to build upon as they progress and grow.
We are often asked at what age is best to introduced your baby to swimming classes and our answer is as soon as you are ready.....here is a glimpse of some of the benefits of baby swimming...
Swimming together enhances bonding and relaxation

Regular swimming improves eating and sleeping patterns

Provides the opportunity to create awareness of safety around water and the pool environment

Gentle and fun exercise whilst having fun!

Research shows that babies who are introduced to swimming and attend classes regularly are far better developed socially, mentally and physically.

Take a look at the structure of the classes and what your little one will be doing....
*As a Tiddler's Academy Swimmer you may enrol on to the Carol Saunders Swim School Active Start programme at 3years old
*Teacher's approval is required to ensure smooth transition to independant lesons