Willow Lodge, Bubwith
 
Beautiful warm private pool located in the village of Bubwith. Lessons run for 48 weeks of the year and  are lots of fun with songs, rhythm and games and excellent for physical, sensory and learning development!
Class Times & Availability
Classes are available on Thursday mornings from 9.30 - 12pm.
Group and Private lessons for swimmers from 0-3 yrs 
Classes are 30 minutes long and subject to availability.
For availability and booking please email:  info@carolsaundersswimschool.co.uk or BOOK ONLINE
Term Dates
2019

 Start Date

End Date

 Term Five

14th - 20th October

16th  -22nd December

2020

Term One 

6th - 12th January
9th - 15th March

 Term Two

16th - 22nd March

18th - 24th May

(Hols 6th - 19th Apr)

 Term Three

25th - 31st May
27th July - 2nd August

 Term Four

3rd - 9th August
5th - 11th October

 Term Five

12th - 18th October
14th - 20th December
 
Pool Details 

 Length: 
 10.0m
 Width:
 5.0m
 Depth:
 1.0m - 1.8m
 Temperature:
 30oC
 Spectator area:

Yes - 1 per swimmer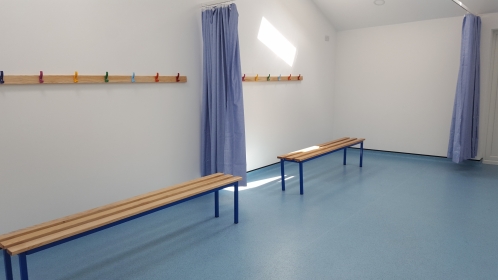 Changing Room Details
 Mixed Sex / privacy screens
 Single rinsing shower on poolside
 Toilet / Bathroom
Please park and then follow the signposts at the venue round the pool house to the left to the back of the buiding.
Due to limited space only one spectator is allowed on poolside to watch lessons.
Directions
to
95 Breighton Road, Bubwith, Selby, YO8 6DQ
Directions
From A19 (Selby/York) - From A19 turn Left/Right onto Market Weighton Road / A163 towards North Duffield & Bubwith. Follow road for 5.2miles traveling over Bubwith Bridge, then turn right onto church Street, follow road slightly left until it becomes Breighton road. Willow Lodge is 0.3miles on the left hand side
From Howden - Travel north on Station Road/B1228 for 5.6miles, turn left onto Highfield Road/A163 into Bubwith, travel 0.6miles and then turn left onto Church Street, follow road slightly left until it becomes Breighton road. Willow Lodge is 0.3miles on the left hand side
Parking
The venue is a private residence on Breighton Road in Bubwith, please be mindful of the surrounding houses.
To keep congestion to a minimum with parking please following the following rules:
Please park to the left of the house behind the swimming teachers car (if lessons are on the hour).
Please park on the right of the house in front of the parking sign (if lessons are at half past the hour).
Your car will be blocked in by fellow class mates, the next class will park at the opposite end of the driveway. If you need to get away quickly at the end of your lesson then please make alternative parking arrangements being mindful at all times of local residents.
If you can car share with friends to your lessons then even better!