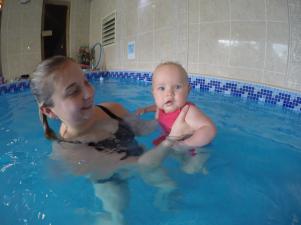 How to prepare for your baby's first swim!
Taking your baby to their first swimming lesson is a very exciting time. It's a chance to strengthen your bond, accomplish something new together and most importantly, great fun! But we also understand that it can also be daunting for you. Not only is it an unfamiliar environment for your little one to get used to…but how do you actually get a baby changed for swimming as well as yourself….and what do you do when you take the nappy off afterwards and it's been filled with a 'you know what'??? 
Below, our experienced Tiddlers Academy teachers and parents of Tiddler's themselves share their tips for a great first lesson….
Before the lesson
Introduce your baby to the water at home
Bathtime with your baby is a perfect way to be in the water together and a lovely relaxing starting point for your aquatic journey together….play with toys, gently sprinkle water over their tiny body whilst singing their favourite nursery rhymes, gently and slowly swish their little body so they can feel the water move around them….all of this helps your baby with their positive associations with the water. If your baby is comfortable and at ease during bathtime, introducing them to a parent and baby swimming class is the next step….
Make sure you have the things you need
There's nothing worse than getting to the pool, only to realise you've forgotten an essential item…..usually my knickers because I arrive at the pool in my cozzie!!
Naiomi's top swimming essentials list:
Swimming nappy x 2

– correct type and size ( a normal nappy will add 2kg of weight to your baby when wet…its vitally important they wear a swimming nappy). You will need at least 2 of them (if one splits you have a spare or if your little one poops half way through you have a spare so you can get back in again!)

Neoprene nappy

– this is a double protection against leaks….yep, the swimming nappies leak just like a normal nappy can, especially when they have a 'poonami'! The neoprene nappy is a double insurance in case there is a leak. If you know your little one has pooped during the lesson you must take them out to change. Once you have changed their nappy and there's still lesson time please re-join the class

Baby full leg wetsuit

– this keeps your little one warmer in the water and especially when getting changed. It also allows you to get changed knowing they are warm and not crawling around a wet floor in their clothes…...it's also a tertiary container for a serious poonami explosion!!

2 towels

– 1 to dry your little one and one for them to lay down on.

Compostable nappy sacks x 4

– 1 for the worn nappy. 1 for the poonami explosion swim nappy, 1 for the second swim nappy and 1 spare…always prepare for a poonami…..baby's often relax in warm water and it can stimulate their bowels to activate!

Full pack of wet wipes and nappy cream

– fitting nappies, wetsuits, water and towels complement each other…..add a poonami in to the mix and everything starts sticking to each other! You'll need the wetwipes to help clear up.

And for yourself

… you need what you take when you swim yourself; swimwear and a towel.
Know the pool facilities
Plan your arrival and ask the venue in advance what you will need. Some things you may not have thought of…..
Will you need a pound for the locker?

Are there changing facilities or will you need to bring your baby's own changing mat?

Can you take your buggy right up to the poolside?

Where can you park?
All simple things but knowing them in advance will relieve you of a lot of stress! It's also worth checking the pool is warm enough for your baby's age. Check out our venue's to see what you can expect at our pools here.
Meet the teacher
It's a great idea to introduce yourself to the person that will be leading your lesson beforehand. This will further help to familiarise your baby, but you can also ask any questions you have. If you're nervous or have little experience swimming yourself then having a friendly conversation will prevent you from being on edge.
Take a look at our "Team" page to see who will be your teacher here.
On the day of the lesson
Make sure you've packed your bag with all the things you need (Point No2.)
Put your swimming costume on before you arrive
This one is really simple, but easy to forget. You'll have one less thing to think about (but don't forget to put your knickers in your swim bag!) if you've already got your cozzie on when you arrive at the pool you can focus on getting your baby into their swimming nappies.
From experience the things not to wear are tights, leggings or tight fitting jeans…..wearing any of these is like having a wrestling match whilst also chasing a toddler around the changing room!
Footwear….you'll more often than not have to remove footwear at the entrance of the changing rooms…When you're carrying a swim bag and a baby in a car seat, make life easier for yourself and wear sandals or flip flops!
Leave plenty of time
If you've visited the venue before, you should know exactly where to go when it's time for your lesson. It still doesn't hurt though to arrive well beforehand so that you can prepare yourself and your baby calmly. You might also have the chance to chat to other mums and dads, which will certainly put your nerves at ease!
Stay relaxed
You'll be in safe hands when you come to your baby's first swimming lesson. All our teachers at Tiddler's Academy are expertly trained and very experienced in looking after little ones. They know that you, as well as your baby, might be a little cautious at first but they'll do their best to make you both feel comfortable.
Once you are changed, bring your little swimmers towel on to poolsideso its ready immediately after the swim.
Use the facilities before entering the water to keep the use of chemicals to a minimum (use the toilet and have a rinsing shower).
Reassure your little one
Being relaxed yourself and giving your baby constant praise and smiling reassures your little one during their first aquatic experience. Encourage them with every little step and splash. They will feel at ease if they hear you talking and singing to them.
How to get in the water with your baby
Your teacher will explain safety points to you and will demonstrate how to enter the water safely with your little one. Our baby swimming sessions are about learning how to swim with your baby, rather than teaching your baby how to swim…this process is a hand holding experience with the support of teachers to prepare you both for swimming independently. We will show you how to support them, how to get in to the pool and how to exit safely. It's a wonderful chance for you both to learn together.
If you have any questions at all please ask your teacher; they are there to help, guide and advise!
After the lesson
Wrap your little one in their towel
As soon as you leave the water, it's really important to wrap your baby up in a warm and snuggly towel. This will keep them warm but also make sure they're comfortable. Bring their towel out of the changing room and place it on the side so it's right there when you need it.
Get yourself dressed
A debatable topic, some parents get their little on changed first because they are cold….however, if your little swimmer is in a wetsuit and wrapped head to toe in a big dry towel and sitting on the second towel you brought for them they will be comfortable for the time it takes you to get changed first….if they old enough, give them a little snack too. By getting them dressed first…especially when they begin to crawl…you will find they end up getting their dry warm clothes soaked by crawling around a changing room floor.
Eat a snack together
Swimming is hungry work for little swimmers, but for big ones too! Why not share some fruit or your baby's favourite nibbles? If they're not yet eating solids, make sure you bring plenty of milk.
Keep encouraging your baby
Hearing the positive tone of your voice during and after the lesson will build positive associations around swimming so your baby feels happy to continue. They may have got off to a slow start, but it doesn't matter! Keep praising them for having the confidence to try.
Feel proud
Don't underestimate what you've achieved together! Especially if you don't usually swim yourself, getting your baby water confident is a massive stride to make. Encourage yourself as much as you encourage your little one.
Keep up the good work!
Water confidence comes with practice. Keep returning to your baby swim classes and when you get the go ahead from your teacher, take them to public sessions too. Every splash in the pool is a stroke towards learning a vital, life-saving skill. Once you've made it through your first lesson, the rest will be nothing but fun!
If you'd like advice about our baby swim lessons at Carol Saunders' Swim School or if you're ready to book please email us on: info@carolsaundersswimschool.co.uk