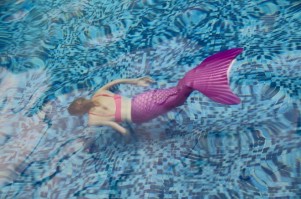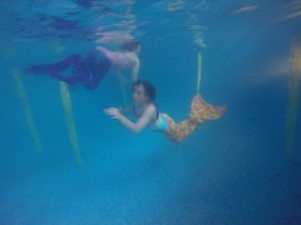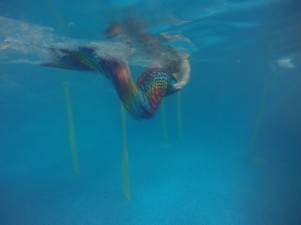 Has your little one always dreamed of becoming a mermaid or merman? Do they enjoy fantasy stories, fairy tales and dressing up? Our wonderous team of mermaids at Carol Saunders Swim School are here to bring a touch of magic to a swimming pool near you!
Our Mermaid Cove Academy offers an unforgettable adventure into the world of the deep! Each swimmer will be provided with a magical monofin tail and learn how to swim as a merperson. Of course, this is super exciting, fun and a great experience to share with friends, but it also teaches young swimmers valuable skills. They'll develop their ability to move in water in alternative ways and enjoy learning about safety through a magical lens. We're sure that our mermaids and merman return to their lessons more motivated than ever once they've taken a trip to Merkingdom with us.
Please note, all potential merpeople must pass our water safety test first, see below…
Mermaid and Mermaster Experience
Discover Merkingdom in a mystical hour and a half session that's perfect for those wanting to dip their tail into swimming.
During the session, apprentice Merpeeps will learn about tail care, safety mermaid skills, the basic mermaid movements, partake in mermaid games and challenges and take a few photos or videos to help capture the memory.
It's something completely different that will spark their imagination and get them excited about swimming. 
See what they could learn to do… 
The Mermaid and Mermaster Experience is £45 for 1.5 hours. Find out more here…
Mermaid and Mermaster Parties
What better way to mark a birthday or give your little swimmer a special treat than a mermaid and mermaster party! Up to 10 merpeople can dive into Merkingdom with us for games, challenges, free swimming, underwater photos and videos. We keep the magic going with up to an hour of Mermaid and Mermaster makeup and dryside photos too- party guests will be totally immersed in the mystical world!
See what Ella and her friends got up too…
A 10 person mer-party is £160 for 2 hours. Find out more here...
If you are looking to transport more than 10 people to Merkingdom, please contact us for a bespoke party arrangement.
Mermaid and Mermaster Academy
Finally, if your little one is looking for the ultimate mermaid experience, they can join a 5-week course of sessions to really hone their tail abilities and agility. They'll learn progressive aquatic movements throughout the term. What's more, they'll cover tail & skin care, water safety and marine conservation.
Do you have a budding conservationist or marine specialist? This programme takes our mermaid experience that bit further to extend into life beyond the pool.
Special to this programme is learning mersigns, tailflicks and finishing off with a game of merfives!
The Mermaid and Mermaster Academy is £75 for 1 hour per week for 5 weeks. Find out more here...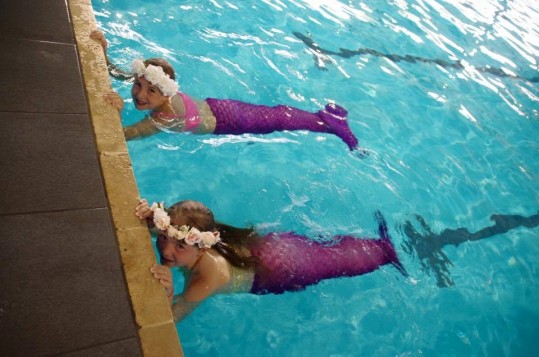 Mermaid Cove Safety Test
It's really important that all mermaids and mermen are able to do the following before they join any of our Mermaid Cove adventures. Swimming with a tail and swishing through hoops can be quite tricky, so we need to make sure everyone will be safe.
They must…
Be a minimum of 6years old
Be able to swim 25 metres comfortably with their face in the water
Be able to submerge their face fully whilst swimming
Be able to tread water in both shallow and deep water
Be able to lift their knees and turn 360degrees in both directions
Be able to demonstrate a basic dolphin kick for 5 metres
**Participants will undertake the water safety test at the first Academy session. If the participant is unable to complete the safety test they will be unable to continue with the Mermaid Academy Programme. To avoid Apprentice Meerpeeps being disappointed please ensure they can undertake the prerequisite safety swims**
We look forward to welcoming you and your apprentice merpeople to our Mermaid Cove Academy soon!
To find out more, please visit our Mermaid Academy page here…