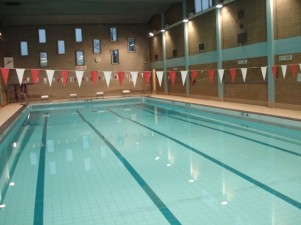 This month, it's time to talk about one of our most popular venues, the home of Carol Saunders Training Academy and a hub of exciting swimming opportunities- it's the Mount School, York.
Over 16 years ago, following her successful classes at Sherburn, Carol started swimming lessons in York. Each Saturday morning, she and one other teacher would teach for 2 hours. Little did she know that the Mount would become one of our busiest venues!
Today, we have an incredible 200 swimmers learn with us every Saturday. 6 classes run simultaneously every half hour and we have a minimum of 7 teachers and assistants on hand. Not to mention our trusty poolside helpers! We also have lessons on Sundays.
Swimming lessons for all abilities
From stage 1 through to stage 10, we have swimming lessons to suit all abilities. Our teaching team at the Mount follow the certified Swim England Learn to Swim Pathway. They know the right ways to encourage beginners but also bring out the best in those who've been swimming for a while. If you'd like a lesson just for you, we have one to ones too! See what's available here.
All that busyness doesn't mean we compromise on quality though. Swimming lessons at the Mount School are known for being fun, engaging and quick to help learners progress. With the venue being just a short walk from York city centre, many families love making their classes part of a day out in town.
Special swimming classes
Local triathlon group, Yorkshire Vikings, run a super session first thing on a Saturday. For those who want to combine their swimming with running and cycling, it's a fantastic opportunity. We also recommend training with the Vikings for advanced swimmers searching for a new challenge.
We run some superb classes in lifesaving to help people of all ages stay safe in the water. For little ones looking for magic, our Mermaid Cove Experience is not to be missed! Using a tail and a bit of imagination, young swimmers transform into mermaids and mermasters. Find out more here.
Swimming teachers training academy
The Mount School, York is home to Carol Saunders Training Academy. Carol has a passion for nurturing new swimming assistants and teachers to make the most of their career. Hundreds of trainees have attended our courses and now help thousands of learners gain confidence in the pool.
Our regular courses include the STA Award in Teaching Swimming and ASA Award for Assistant Swimming Teachers. These are perfect for those seeking employment in leisure centres, health clubs and schools. We also train lifeguards through the National Rescue Award for Swim Teachers and Coaches. You can see our upcoming courses on our Facebook page.
Whatever you'd like to get involved with, you'll find plenty of swimming classes and activities at Carol Saunders Swim School at The Mount, York. For more information about the venue, please click here.
Or email info@carolsaundersswimschool.co.uk for more information.